Published: Saturday, June 20, 2020 02:36 AM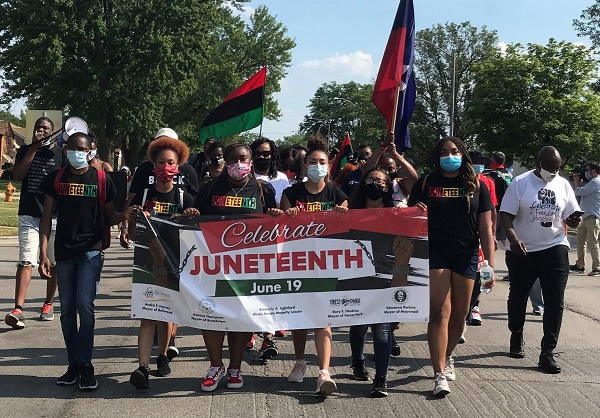 BROADVIEW—Communities in the West Suburbs came together on Juneteenth to celebrate both the end of slavery and to continue the fight for justice, equality and police accountability.
Senate Majority Leader Kimberly A. Lightford (D-Maywood) was joined by West Suburban Mayors Katrina Thompson, Andre Harvey, Edwenna Perkins, Rory Hoskins and other elected officials on Friday for a Juneteenth Police Accountability Protest.
Lightford not only wanted to shine a light on Juneteenth, Freedom Day for slaves in America, but she also calls for police accountability after seeing Chicago police officers sleeping on the job in Congressman Bobby Rush's office on the South Side of Chicago.
"I know Juneteenth is supposed to be a celebration, but we are in the midst of a movement, so we have to address excessive force and the many other injustices," Lightford said. "It is so unfortunate that Juneteenth and the vast majority of Black history is not being taught in our classrooms. We have to, as a people, celebrate our people, because no one else is celebrating us, but us."
Category: News