Published: Thursday, June 18, 2020 04:29 PM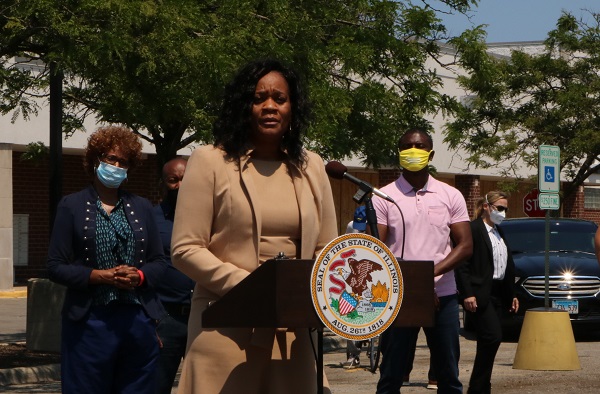 CHICAGO — Senate Majority Leader Kimberly A. Lightford (D-Maywood) joined Governor JB Pritzker and other members of the Black, Latino and Asian Caucuses of the state legislature and small business owners to announce a package of state grant programs to support communities and businesses impacted by the pandemic and recent civil unrest.
"Black communities are the hardest hit by COVID-19. Another symptom of the disease that is racism in our country; working families who have yet to receive a proper payday have struggled, they've struggled to maintain. During this time, our small business built in our local communities by the people who care about them. Most were forced to shut down, and were damaged by individuals who totally exploited our pain for personal gain," Lightford said. "They need a government that will work for them without hesitation. And when we left Springfield after passing a balanced budget, this is the word that we fought for; for Black and Latino communities who deserve nothing less than reassurance that we are going to make them whole. And then we are going to make them grow. "
The package includes more than $900 million across more than ten programs and four state agencies to help working families and small businesses who have been hit the hardest by COVID-19's economic impacts, which was compounded by recent property damage and civil unrest.
Category: Uncategorised