Published: Friday, April 22, 2016 04:59 PM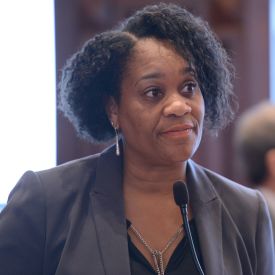 SPRINGFIELD – In response to legislation (SB 2059) providing much-needed funds to Illinois universities to keep their doors open passing the General Assembly today, Senate Assistant Majority Leader Kimberly A. Lightford (D – Maywood) released the following statement.
"We will not let our colleges and universities wither away. The Community College Board and our institutions like Chicago State University, Eastern Illinois University and Western Illinois University deserve the funding in this legislation and more.
"This is a start, but the governor also needs to look at legislation already on his desk and Senate Bill 2047, which the Senate passed today, that would provide higher education funding and critical relief for human services, such as cancer screenings, HIV/AIDS services and health prevention.
"If the higher education funding legislation that passed out of the General Assembly is indeed signed into law, this is a small victory, but the leaders of our state have more work to do."
Category: News