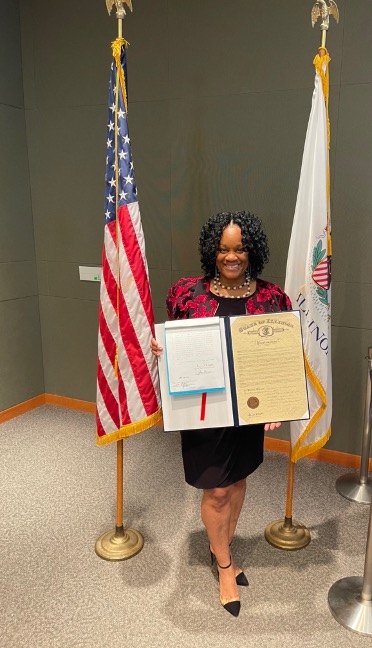 SPRINGFIELD – Because of Senate Majority Leader Kimberly A. Lightford's (D-Maywood) efforts to ensure that the people of Illinois understand that Black history is American history, Governor Pritzker signed a law on Wednesday to make Juneteenth National Freedom Day a state holiday on June 19.
"Making Juneteenth a state holiday is a breakthrough in Illinois history," Lightford said. "It reminds us that freedom and racial equality have always been a hard-fought battle for Black Americans and gives us an opportunity to celebrate our culture and achievements."
In 1863, President Abraham Lincoln issued the Emancipation Proclamation, which established that all enslaved people in Confederate states were forever free. In 1865, federal troops arrived in Galveston, Texas on June 19 to take control of the state and ensure that all enslaved people were freed, leading to the name Juneteenth. House Bill 3922 creates a state holiday for Juneteenth National Freedom Day on June 19, which would be a paid day off holiday for all state employees and a school holiday, if June 19 falls on a weekday.
Juneteenth honors the end of slavery in the United States. Today, Juneteenth has grown from the celebration of the abolition of slavery into a celebration of Black arts, culture, and the impacts of the civil rights movement throughout the country.
"Our people's struggle to achieve full equity in Illinois continues," Lightford said. "Juneteenth is a day of remembrance and celebration, but it is also a reminder that Black people still don't have all of the rights and privileges enjoyed by others, and that our fight is not over."
House Bill 3922 was signed by the governor and will be effective Jan. 1, 2022.