Published: Wednesday, May 06, 2020 04:00 PM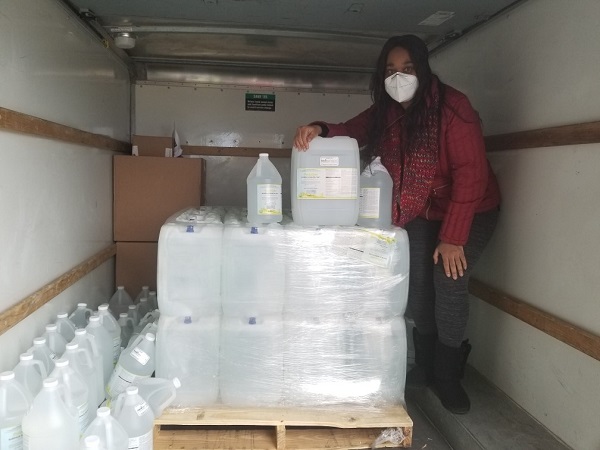 Senate Majority Leader Kimberly A. Lightford (D-Maywood) distributed 41 5-gallon containers of disinfectant, 59 1-gallon containers of disinfectant, 100 spray bottles and 1,000 masks to local entities across the 4th Senate District on Monday.
Recipients of the supplies included: the 15th District of the Chicago Police Department, Austin Peoples Action Center, West Side Preventative Partners, PCC Community Wellness Center, Tabitha House, Habilitative Systems Inc., Aspire Residential Care, Loretto Hospital, Bellwood Police Department, Village of Bellwood, Bellwood Fire Department, Bellwood Streets and Water, Bellwood Developmental Center, Presence Behavioral Health, Prairieview Senior Apartments, Independent Living Senior Suites of Bellwood, Broadview Police Department, Village of Broadview, Broadview Fire Department, Hillside Police Department, Hillside Fire Department, Village of Hillside, Symphony at Aria, Oakridge Nursing and Rehab Center, Forest Park Police Department, Constance Morris House, Housing Forward, Village of Maywood, Garden House of Maywood Apartments, Maywood Phoenix Homes, New Moms, Sarah's Inn, Village of North Riverside, North Riverside Public Works, North Riverside Police Department, North Riverside Fire Department, Caledonia Senior Living & Memory Care, UCP Seguin and Beyond Hunger.
A special thanks goes out to PathoSans, Star Buds and NRG for donating the disinfectant, masks and hand sanitizer.
Category: News