Published: Thursday, February 13, 2020 10:25 PM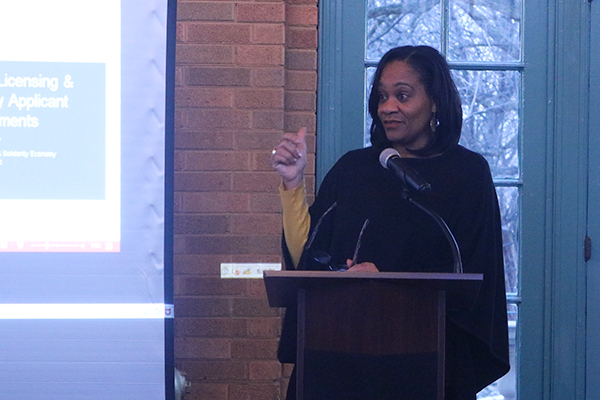 CHICAGO – Senate Majority Leader Kimberly A. Lightford (D-Maywood) held a Social Equity Cannabis Workshop Tuesday in partnership with the Department of Commerce and Economic Opportunity to provide technical assistance to those wanting to apply for a transporter, infuser or craft grower license.
The event took place at the Columbus Park Refectory and attracted more than 150 participants.
"One of the major goals in legalizing adult-use cannabis was to ensure underprivileged communities were going to have an opportunity to participate in the industry," Lightford said. "I am committed to seeing that goal through, and that starts with offering these type of informational events."
Attendees listened to presentations from Renee Hatcher, director of the Community Enterprise and Solidarity Economy Clinic at The John Marshall Law School, Alma Tello, deputy director for the Office of Minority Economic Empowerment at DCEO, and Tierra Bradford with Accion, an investment firm specializing in underserved entrepreneurs.
Those looking for further support for social equity applicants should contact The Office of Minority Economic Empowerment. The cannabis hotline is 877-221-4403 and the email address is This email address is being protected from spambots. You need JavaScript enabled to view it..
Documents and presentations from the event are linked below.
DCEO Cannabis Program Financial Assistance: Social Equity Loan Program Presentation
DCEO Illinois Adult Use Cannabis Craft Grower, Infuser, and Transporter Licenses Handout
DCEO Social Equity Cannabis Loans Handout
UIC John Marshall Law School: IL Cannabis Licensing and Social Equity Applicant Requirements
Category: News