Published: Thursday, August 15, 2019 04:24 PM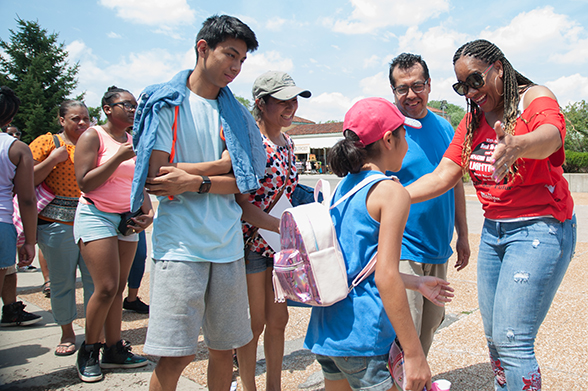 Senate Majority Leader Kimberly A. Lightford (D-Maywood) hosted her 10th Annual Back to School Event on July 28 at Brookfield Zoo.
Guests received free parking, entry to the zoo, lunch, age-appropriate book bags with school supplies and t-shirts. In honor of the 10th year of the event, guests were also able to attend Brick Safari and the Hamill Family Wild Encounters exhibits free of cost. Additionally, Brookfield Zoo provided Animal Ambassadors that walked through the registration line and had a small exhibit near the vendors with animals that could be touched and interacted with.
Meijer was the premier event sponsor. Additional sponsors were Pepsi, Next Level Health, Stand for Children, Ameren Illinois, Nicor, Peoples Gas, The Roosevelt Group and Madiar Governmental Relations, LLC.
Over 750 guests attended the event and about 60 volunteers, including Meijer staff, the 4th District Committee and non-committee affiliates that assisted with the event.
Guests were hosted at three luncheon times, one of which included a visit from Governor J.B. Pritzker who made remarks, took photos and passed out school supplies to attendees.
Participants also had the opportunity to visit with vendors who provided information, resources, giveaways and screenings.
Below is the list of vendors who were in attendance:
• Black Star Project
• Cook County Health Systems
• Illini Health Care
• Illinois Department of Professional Regulation (Division of Banking- Legislative Services)
• Illinois Department of Public Health (UIC) (Mobile Care Foundation/Agape/ Beyond Care)
• Illinois State Police
• Loyola Hospital
• Merdian Health
• Next Level Health
• Pillars Community Health
• Proviso Lyden Council Community Action (PLCCA)
• Riveredge Hospital
• Senator Kimberly A. Lightford, 4th Senate District Office
• The Answer Inc.
• Traci's House
• University of Chicago at Chicago Chance Program
• Wellcare
Category: News