Published: Wednesday, February 20, 2019 10:07 PM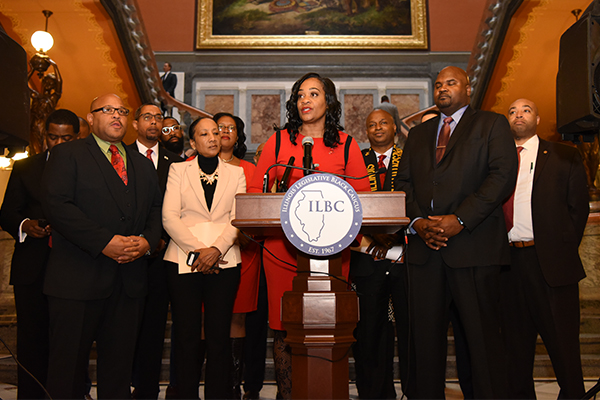 SPRINGFIELD - The Illinois Legislative Black Caucus responded to Gov. JB Pritzker's first budget address on Wednesday.
Leaders of the Black Caucus discussed some of the main issues facing Black communities, ranging from criminal justice reform to higher education.
Senate Majority Leader Kimberly A. Lightford, Chairman of the ILBC-
"The governor's budget plan is a great start to tackle some of the key challenges we are facing including ensuring a living wage for working families and that students around the state receive a quality education.
"His speech was very realistic about the hole that we are in and how we can climb out of it over time, while continuing to support crucial services like mental health support and violence prevention programs.
"We look forward to working with our colleagues and the governor's administration to guarantee that the issues facing the black community are prioritized in the next state budget."
State Representative Camille Lilly, House Chair of the ILBC-
"Illinois faces many challenges as a result of Gov. Rauner's disastrous tenure as governor. While there is a lot of work to be done, Governor Pritzker's speech made it clear we now have a governor who is ready to work with us to address these challenges.
"The governor's priorities reflect many of my own commitments, including adequate funding for our schools, investing in safer communities and rebuilding services for those in great need, which were decimated by the past administration at crisis levels.
"I look forward to working with the governor and my colleagues on both sides of the aisle to address the major challenges we face, and pass a responsible budget that reflects the values of our community, the people."
Watch the full press conference here.
Category: News