Published: Tuesday, February 19, 2019 06:28 PM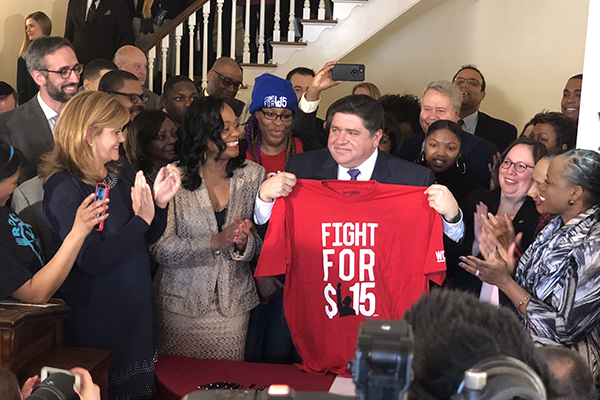 SPRINGFIELD – Minimum-wage earners statewide will see their first pay increase since 2010 under a new law raising the minimum wage to $15 by January 2025 negotiated by Majority Leader Kimberly A. Lightford (D-Maywood).
"Today is a victory for working families across the state, and a symbol of commitment to struggling populations across the state," Lightford said. "I commend Governor Pritzker for making a higher minimum wage a priority and look forward to working with him moving forward."
Senate Bill 1 would increase the minimum wage to:
$9.25 per hour on January 1, 2020
$10 per hour on July 1, 2020
$11 per hour on January 1, 2021
$12 per hour on January 1, 2022
$13 per hour on January 1, 2023
$14 per hour on January 1, 2024
$15 per hour on and after January 1, 2025
Illinois' current minimum wage is $8.25 per hour. A single parent working a full-time minimum-wage job qualifies for food stamps, Medicaid and often housing assistance. A $15 per hour minimum wage would lessen single parents' and families' reliance on assistance.
The measure also increases the minimum wage for individuals under the age of 18 but at a slower pace, going from $8 on Jan. 1, 2020 to $13 on Jan. 1, 2022.
Under Illinois law, workers who receive tips, like servers and delivery drivers, receive 60 percent of minimum wage and receive the rest in tips or are supplemented by their employer. That dynamic will mean the tipped wage would increase to $9 per hour by 2025.
Lightford is also responsible for the 2003 and 2006 laws that gradually increased the minimum wage from $5.15 to $8.25 per hour.
Category: News