Published: Thursday, February 07, 2019 09:42 PM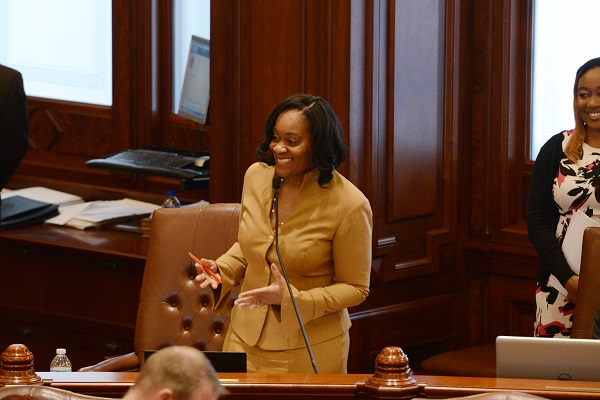 SPRINGFIELD – Minimum-wage earners statewide could soon see a pay increase under a proposal approved by the Senate on Thursday that raises the minimum wage to $15 by January 2025. Majority Leader Kimberly A. Lightford (D-Maywood) directed efforts that would give hardworking families a much-needed raise.
"The people who keep businesses going deserve a salary that allows them to take care of their financial responsibilities whether is taking care of a family, paying off student loans or simply covering their basic needs," Lightford said.
Senate Bill 1 would increase the minimum wage to:
o $9.25 per hour on January 1, 2020
o $10 per hour on July 1, 2020
o $11 per hour on January 1, 2021
o $12 per hour on January 1, 2022
o $13 per hour on January 1, 2023
o $14 per hour on January 1, 2024
o $15 per hour on and after January 1, 2025
Illinois' current minimum wage is $8.25 per hour. A single parent working a full-time minimum-wage job qualifies for food stamps, Medicaid and often housing assistance. A $15 per hour minimum wage would lessen single parents' and families' reliance on assistance.
The measure also increases the minimum wage for individuals under the age of 18 but at a slower pace, going from $8 on Jan. 1, 2020 to $13 on Jan. 1, 2022.
Under Illinois law, workers who receive tips, like servers and delivery drivers, receive 60 percent of minimum wage and receive the rest in tips or are supplemented by their employer. That dynamic will mean the tipped wage would increase to $9 per hour by 2025.
The measure now heads to the House for consideration.
Category: News