Published: Friday, January 18, 2019 04:19 PM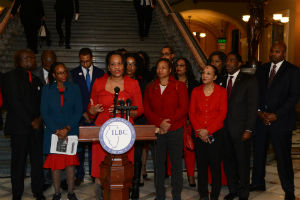 CHICAGO — Illinois Legislative Black Caucus Chairman Kimberly A. Lightford (D-Maywood) released the following statement regarding the acquittal of three Chicago police officers, David March, Thomas Gaffney and Joseph Walsh, charged with covering up for a fellow officer, Jason Van Dyke, who shot and killed Laquan McDonald:

"Today's decision is not only a slap in the face to Mr. McDonald's family, but it negatively impacts the black community as a whole because it perpetuates a system that allows a code of silence to continue among police.
"Our officers are sworn to protect and serve everyone, not just a chosen few. This is unfair and disproportionately affects minority communities. It must stop.
"The Illinois Legislative Black Caucus will continue to work with constituents, activists and the police to end systemic injustice."
Category: News