Published: Friday, February 16, 2018 02:53 PM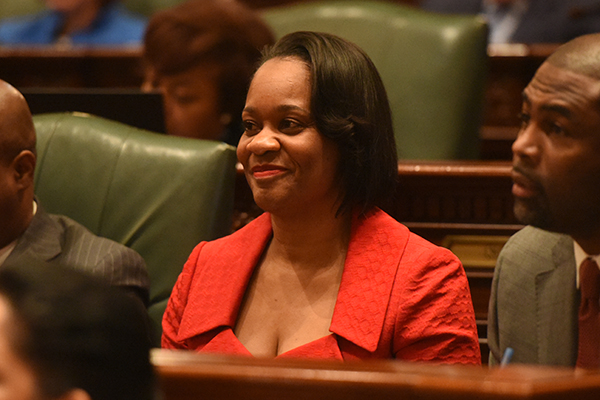 SPRINGFIELD – Illinois legislators, representatives from the Illinois Department of Public Health and health advocates gathered in the rotunda of the Statehouse today to spread awareness of the American Heart Association's Go Red For Women campaign, and to encourage Illinois women to learn their risk factors of heart disease and stroke.
Go Red For Women began in 2004 with the mission of educating women on their risk factors of heart disease and empowering them to take control of their heart health. More than one in three women are living with some form of cardiovascular disease; it remains the number one killer of women.
"As women, we know how hard it can be when everything else seems to come before our own welfare. We Go Red For Women to remind all women that the roles we play in our families, our communities and our relationships are too important not to invest in our own well-being," said Assistant Majority Leader Kimberly A. Lightford (D-Maywood).
"I wear red for the women in my life, my family, my colleagues, my constituents and all women," Lightford continued. "Heart disease is much too preventable for it to be claiming so many lives, and together we can raise awareness and turn the statistics around. I want my fellow women to invest time and effort in self-care because we need strong women to keep our state and country going."

How You Can Go Red
Get Your Numbers: Ask your doctor to check your blood pressure, cholesterol and glucose. By knowing your numbers and tracking them over time, you can begin to understand what you can do to improve your health. If your blood pressure is high, for example, it increases your risk for heart attack and stroke.
Own Your Lifestyle: Stop smoking, lose weight, be physically active and eat healthy. Smoking is one of our nation's top causes of early death, but your lungs can begin to heal as soon as you quit. If you have too much fat — especially if a lot of it is at your waist — you're at higher risk for such health problems as high blood pressure, high blood cholesterol and diabetes. And you're not alone! More than 2/3 of our American adult population is overweight, with 1/3 of us in the obese category.
Raise Your Voice: Advocate for more women-related research and education. Women comprise only 24 percent of participants in heart-related studies.
Educate Your Family: Make healthy food choices for you & your family. Teach your kids the importance of staying active. Cut out sugary drinks and reduce your salt intake.
Donate: Show your support with a donation of time to learn more about your health and that of your loved ones.
Category: News