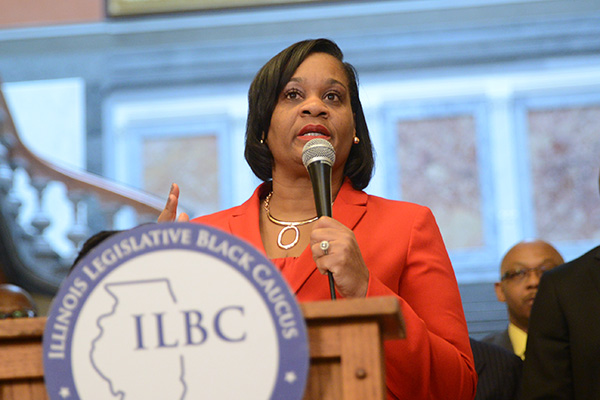 SPRINGFIELD - Measures led by Assistant Majority Leader Kimberly A. Lightford (D-Maywood) increasing counseling sessions for minors, expanding eligibility for a minority teachers scholarship and promoting the awareness of cancer in veterans were signed into law on Friday.
Minors 12 years and older seeking counseling will receive more sessions without having to receive prior consent from a guardian under one of the recently approved laws. House Bill 3709 allows counselors to continue serving youth in circumstances where seeking parental permission may be detrimental to the youth.
"Young people, especially LGBTQ and homeless youth, may sometimes feel like they have no one to turn to in dealing with hardships. They will now have more accessibility to counseling, and I hope it will encourage our youth to seek help when they need it," Lightford said.
Senate Bill 1739 allows licensed teachers pursuing additional teaching endorsements or a master's degree in an academic field related to the subject they currently teach or plan to teach to apply for the Minority Teachers of Illinois Scholarship Program.
"Retaining minority teachers helps increase success among minority students. Also, teachers with advanced degrees have the ability to offer courses that award college credit, increasing educational opportunities for all students," Lightford said.
The Veterans' Cancer Screening Program was established in response to concerns for the lack of awareness for the importance of cancer screening among veterans. Senate Bill 838 directs the Department of Public Health to distribute information on risks and early detection, establish referral services and screenings, promote counseling information and make public service announcements.
"We know that a number of veterans were exposed to conditions that could result in cancer, and early detection can make all the difference for many who are diagnosed. That is why it is important to help our veterans get screened," Lightford said.
Category: News