Published: Thursday, June 01, 2017 02:40 AM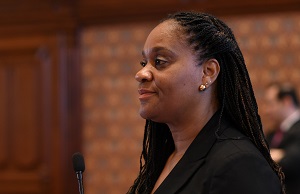 SPRINGFIELD — Minimum-wage earners statewide could soon see a pay increase as a result of legislation that raises the minimum wage to $15 by January 2022. Assistant Majority Leader Kimberly A. Lightford spearheaded efforts that would give hardworking families a much-needed raise.
"People working full time should earn a living wage," said Lightford, a Maywood Democrat "We want our workers to be able to support their families, have financial independence and be able to contribute to the state's economy."
Senate Bill 81 would increase the minimum wage to:
$9 per hour from January 1, 2018, to December 31, 2018
$10 per hour from January 1, 2019, to December 31, 2019
$11.25 from January 1, 2020, to December 31, 2020
$13 per hour from January 1, 2021, to December 31, 2021
$15 per hour on and after January 1, 2022
The measure also increases the minimum wage for individuals under the age of 18 but at a slower pace, going from $8.00 on January 1, 2018 to $12.00 on January 1, 2022. Illinois' current minimum wage is $8.25 per hour.
A single parent working a full-time minimum-wage job qualifies for food stamps, Medicaid and often housing assistance. In addition, many minimum-wage workers are forced to work several part-time jobs to make ends meet.
"Our workers should not be struggling to make ends meet as those benefiting from their labor are prospering. Let's give Illinois workers the raise they have been waiting for."
The legislation will now head to the governor for consideration.
Category: News