Published: Friday, January 22, 2016 05:55 PM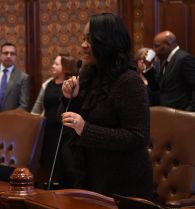 SPRINGFIELD – In response to the forthcoming legislation seeking to allow for the bankruptcy and government takeover of the city of Chicago and Chicago Public Schools being pushed by the governor and Republican leaders, Senate Assistant Majority Leader Kimberly A. Lightford released the following statement.
"The Republican administration has gone too far, and the governor has shirked his real duties to the people. If he wants so desperately to restructure Chicago Public Schools, he should start by restructuring the systemic prejudice that continues to permeate our children's schools.
"Chicago is not a third world country to be seized by a government. This is not our path to success. All of our leaders need to treat Chicago students and teachers with respect, value them as equally as any other student or teacher and be willing to proactively restructure our education system for the next generation."
Category: News