Published: Thursday, November 12, 2015 03:17 PM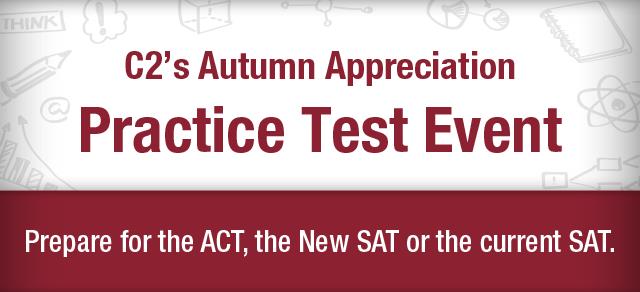 C2 Education centers throughout Chicago will be offering complimentary practice tests on November 16, 18, and 21.
Register today for the ACT®, New SAT®, current SAT®, or New PSAT®*. All registrants get an extra 5% off their C2 tuition for 50+ hours and are eligible for a FREE post-test consultation.
C2 practice tests offer a valuable real-world test environment, allowing students to better understand the testing process while accurately measuring performance before taking the real test. Simply fill out the registration form and your local C2 Director will contact you to schedule your testing time slot. Click here to find a C2 Center near you.
Space is limited; register today for your FREE Autumn Appreciation practice test and get 5% OFF C2 tuition for 50+ hours plus a FREE post-test consultation.
Category: News