Published: Wednesday, March 02, 2016 08:57 PM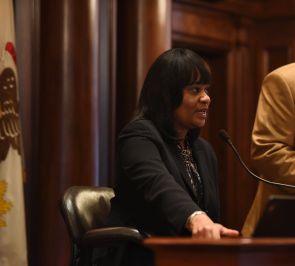 SPRINGFIELD – Students across the state have been waiting eagerly for positive action on MAP grant funding. To that end, today, the Illinois Senate passed through a legislative override of the governor's veto of essential MAP grant dollars for college students.
"We all say we take pride in education and that academics are a priority – myself included," said Assistant Majority Leader Kimberly A. Lightford (D – Maywood). "I just voted to put our state's dollars where my values have always been, and I will continue to fight for the issues that we all know are most important for our future. Now, let's pass a fair budget and keep our students funded for years to come."
The dollars being pushed through for students represents a healthy increase when compared to last year. The $32 million increase in funding could stand to benefit an additional 15,000 students across the state, including many in the Chicago area.
"It's time to return to learning." said Lightford. "For many college students, they have had their education stifled by politics and unwilling leadership. We have now overpowered the governor's lack of leadership and given financially vulnerable Illinois students the help they need. "
Adult education programs have been hit by the budget impasse particularly hard and have had to cut classes and faculty hours as a consequence. The new law provides over $32 million for adult education and literacy activities.
Schools made MAP claims of about $164 million on behalf of about 102,000 students for the first term of the 2015 - 2016 school year.
Category: News