Published: Wednesday, July 15, 2015 04:49 PM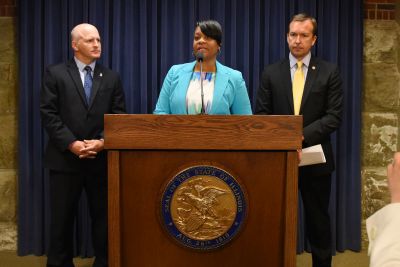 SPRINGFIELD: A new plan proposed by Senate Democrats and strongly supported by Assistant Majority Leader Kimberly A. Lightford (D – Maywood) would strike a compromise between Democrats and Republicans by instituting critical education reform while also fulfilling one of Governor Rauner's key turnaround agenda demands: a property tax freeze. The legislation enacts this needed property tax freeze for homeowners, while also reforming education funding and protecting Chicago schools' teachers.
"Keeping teachers in the classroom must be one of our top priorities because they hold the key to our children's futures in their hands," said Senator Lightford.
"This legislation relieves budget pressure on Chicago Public Schools and the city of Chicago, helping ensure our schools open on time, stay open and that our educators aren't laid off," said the Illinois Legislative Black Caucus Chair. "I am so proud that we are lifting up Chicago schools through this measure, finally treating Chicago public schools' funding the same way we treat all other school districts in the state. When signed into law, this plan would be a tremendous achievement for Chicago educators."
Under the proposal, the state would pick up the cost of Chicago teacher pensions. Chicago taxpayers currently double-pay, paying for CPS pensions and all other school districts' teacher pensions.
The senator believes that through this legislation, the state can finally responsibly address the interdependent issues of ever-rising property taxes for homeowners, unfunded Chicago teacher pensions and unbalanced school funding.
"Just as these serious issues are interconnected, so should be the sacrifice we endure to ensure that our government works for all," Lightford said. "Shared sacrifice is the only justifiable path to fiscal balance."
While enacting a property tax freeze on all taxing districts for the next two years (excluding Chicago for the first year because of its unique property tax cycle), the plan also provides much-needed dollars for school districts most adversely affected by under-funding of General State Aid and calls for the creation of a General State Aid Commission to submit a revised, more equitable, school funding formula by the end of next year.
"We, as a state, must be innovative in how we sustain and improve our education system. The burden cannot continue to fall so hard on local homeowners to provide the necessary funding to keep our education system healthy. This must change, but keeping schools open, teachers teaching and all of our children learning in Chicago is a cause we must embrace," Lightford said.
Category: News