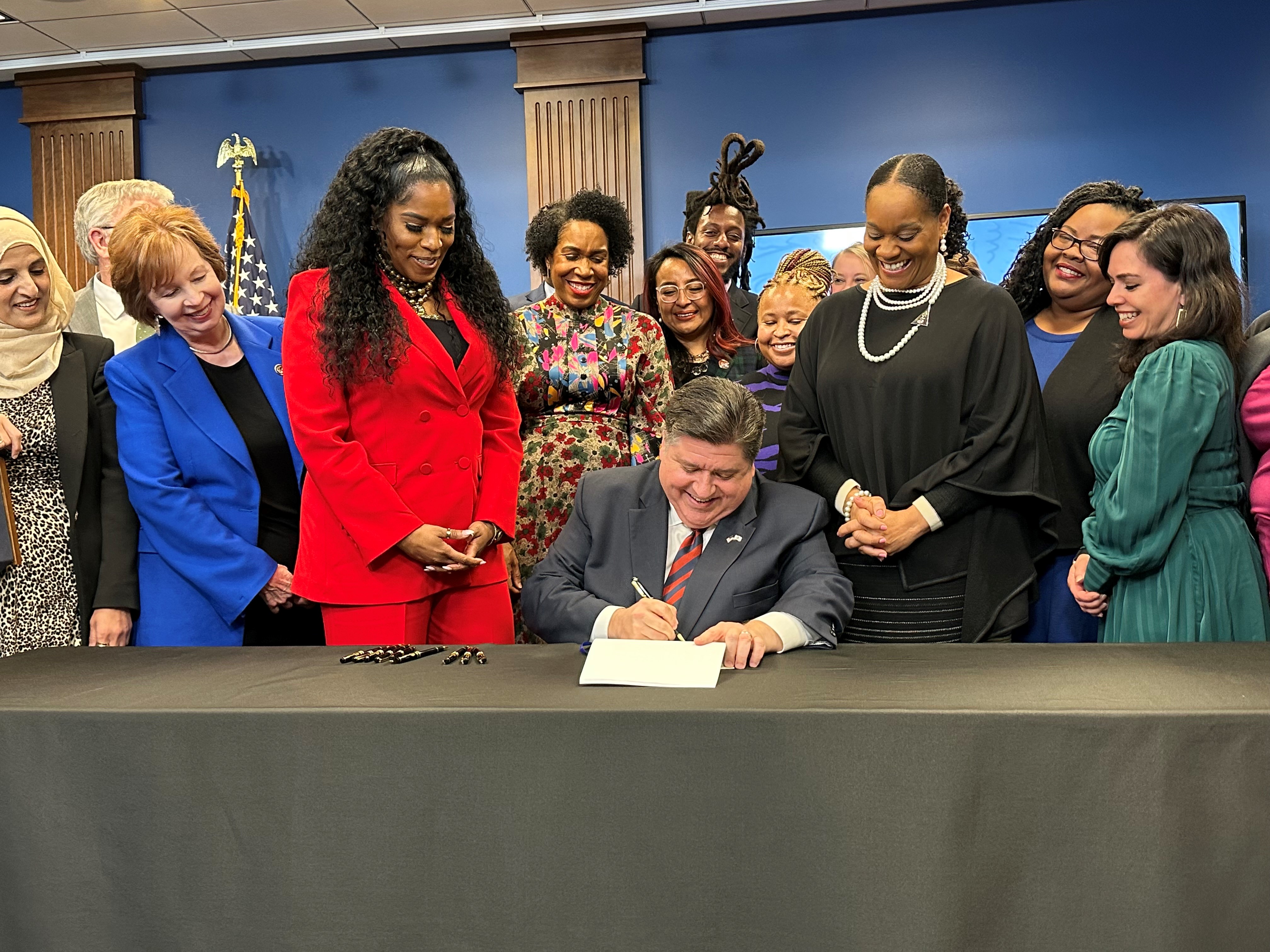 Senate Majority Leader Kimberly A. Lightford joined fellow Senate Democrats in applauding the signing of the Paid Leave for All Workers Act on Monday, making Illinois the third state in the U.S. to guarantee paid leave.
"It's not uncommon for life to get in the way of work – be it your child unexpectedly gets sick or your car breaks down. You shouldn't be punished for these everyday obstacles," said Lightford (D-Maywood), whose decades of work lifting up working families has included championing numerous increases to the state's minimum wage and expanding worker protections for employees targeted by layoffs. "With the signing of this legislation, we are leading a significant, positive impact on the lives of residents across our state and underscoring our commitment to uplifting working families."
Under the new law, all employers in Illinois will be required to provide their employees with a minimum of 40 hours of paid leave per year that can be used for any reason. A worker would begin to earn paid leave on their first day of employment at a rate of one hour of leave for every 40 hours worked. Starting on March 31, 2024, or 90 days following commencement of employment, workers can begin using their earned time off for any reason without the requirement of providing documentation to their employer.
"Lower-income families and workers living paycheck-to-paycheck often don't have the luxury of taking unpaid time off because their daily wages mean the difference between stability and crisis," said State Senator Cristina Castro (D-Elgin). "The Paid Leave for All Workers Act will ensure all employees in our state can rely on at least one week of paid leave per year where an emergency or a child's illness won't break their family's wallet and send them into financial ruin. I'm proud of what we've done for working families with this historic legislation."
The law provides that employers who fail to provide these benefits would be subject to penalties, including fines and compensatory damages for affected employees. Employers can still require their employees to provide notice before taking paid time off if the use of leave is foreseeable.
"All workers deserve to take sick time without worrying they will miss a paycheck or lose their job. This legislation prioritizes the needs of working families, ensuring they have the support they need to thrive," said State Senator Ann Gillespie (D-Arlington Heights). "Guaranteed paid leave is not only a matter of fairness but a smart economic policy. By allowing workers to take time off to care for themselves or their loved ones, we are supporting their well-being and reducing the financial burden on families and our health care system."
"In my People's Legislative Council initiative, single moms from our district told me that they often struggle to get time away from work to attend their kid's parent teacher conferences, attend sporting events, or get a sick child to the doctor," said State Senator Mike Simmons (D-Chicago). "It is important all employees in Illinois, especially working single-parents and those with families, have the time they need to handle what is happening at home without worrying about missing a paycheck. I am proud to see this legislation being signed into law today. The Paid Leave for Workers Act will help everyday people balance family time with work."
The law applies to all employees working for an employer in Illinois, except for those covered by certain collective bargaining agreements, independent contractors and employees already covered by paid sick leave ordinances in the City of Chicago and Cook County. The law is expected to impact approximately 1.5 million workers across the state.
"People need to be able to take time off when life unexpectedly gets in the way," said State Senator Ram Villivalam (D-Chicago). "The path toward a more equitable workforce starts with ensuring all workers have the deserved safety net of paid time off. We have taken a positive step toward committing to working families that their livelihood is of utmost importance."
Employers are not required to cash out the balance of an outgoing employee's paid leave, although the law does provide that up to 40 hours of unused paid leave can be carried over annually.
"Our most vulnerable communities are comprised of working families who often have trouble finding time outside of work to handle various family crises," said State Senator Robert Peters (D-Chicago). "As the backbone of our state, working families deserve breathing room for life's setbacks. Paid leave supports families in times of crisis and helps protect hard-earned jobs. This law will undoubtedly help families maintain a sense of financial stability and ultimately keep our communities safe."
SB 208 was signed into law March 13 and takes effect Jan. 1, 2024.