Published: Friday, September 16, 2016 09:24 PM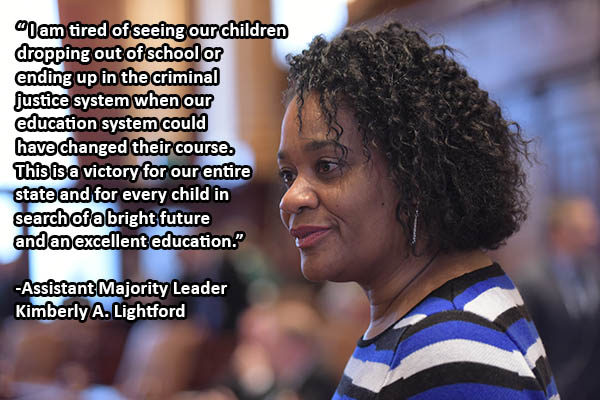 SPRINGFIELD – A 2012 study found that Illinois suspends more African-American students than any other state in the U.S., including a Black-White suspension disparity that is the highest in the country. To address this all-too-apparent problem and the overall frequency of out-of-school discipline, a new law that recently went into effect will help to ensure that all students are in school and off the streets as much as possible.
"Our education system has failed many children by simply denying them the opportunity to sit in a classroom," said Assistant Majority Leader Kimberly Lightford, sponsor of the successful legislation. "We're moving toward a disciplinary system that prioritizes educating students by keeping them in school."
The new law addresses the frequency and racial disparity of suspensions and expulsions by limiting their use, creating policies that re-engage students and avoiding interrupting a student's learning as much as possible.
Original research into state records has shown that in the 2010-2011 school year, Illinois students lost 1,117,453 instructional days due to disciplinary actions, 95 percent of which were for minor offenses.
"I am tired of seeing our children dropping out of school or ending up in the criminal justice system when our education system could have changed their course," Lightford said. "This is a victory for our entire state and for every child in search of a bright future and an excellent education."
###
Category: News