Published: Friday, August 26, 2016 08:32 PM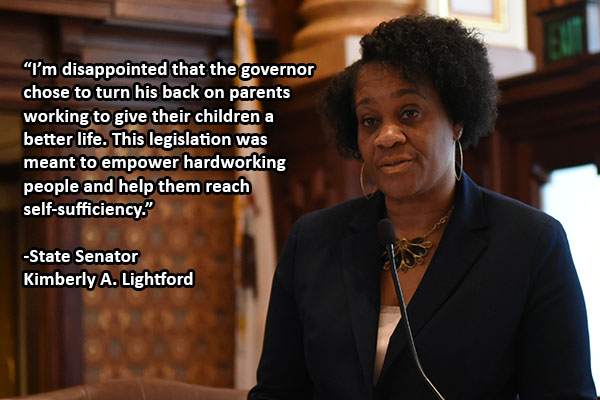 SPRINGFIELD- A proposal led by Assistant Majority Leader Kimberly A. Lightford that would have made child care more accessible to working parents and parents seeking a higher education was vetoed by Governor Bruce Rauner today.
"I'm disappointed that the governor chose to turn his back on parents working to give their children a better life," Lightford said. "This legislation was meant to empower hardworking people and help them reach self-sufficiency."
Senate Bill 730 increased the income eligibility threshold for the Child Care Assistance Program to 200 percent of the Federal Poverty Level in 2016 and 250 percent by 2017. The change would have allowed thousands of families to qualify for the program.
Furthermore, the initiative would have expanded the program's priority populations to include homeless children, children engaged in the child welfare system and families who need child care assistance to participate in education and training activities.
"We're trying to give parents a leg up, many of whom are women," Lightford said. "We should be investing in people who are already on the road to success who need a little help, because that's how we begin to elevate our state together."
The CCAP program provides financial assistance for working parents and students who need day care. Last year, many of those parents were left without child care after the governor made devastating cuts to the program.
###
Category: News