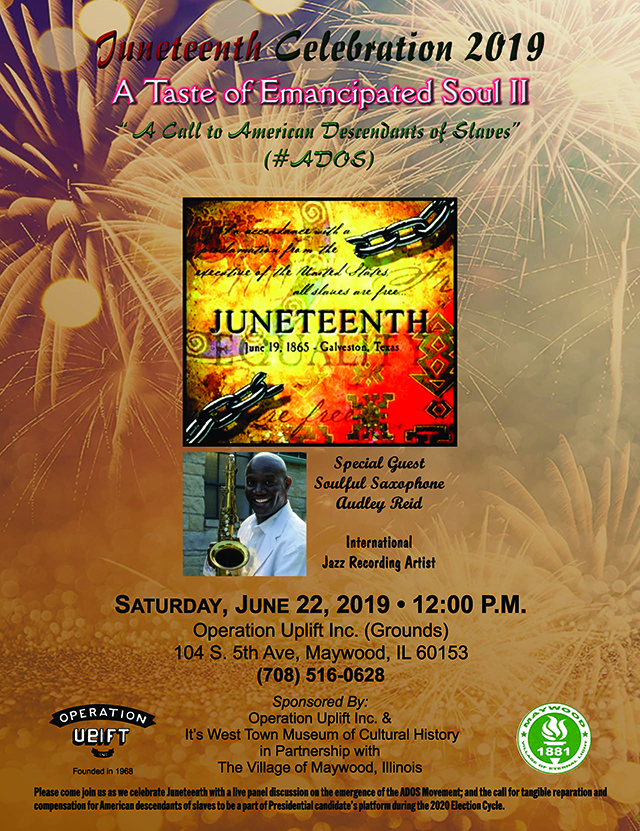 Join Operation Uplift INC. in partnership with the village of Maywood for their 2019 annual Juneteenth Celebration – "A Taste of Emancipated Soul II".
Feel free to bring your chairs, and let's feast and reflect in celebration of this historic event in the emancipation of our Texas ancestors on June 19, 1865.
At this event they will be highlighting two new 2019 exhibits from our West Town Museum of Cultural History's (WTMCH's) – "gallery of hue":
Two Roads To Freedom – A WTMCH exhibit displaying the different ideological perspectives of W.E.B. Dubois and Booker T. Washington during the Reconstruction Period.
A Gaze Into Garvey "The Pan-Africanist Movement" – A WTMCH exhibit taking a quick glimpse into the life of Marcus Mosiah Garvey, Pan-Africanism and the past and present scholars who were inspired by Garvey throughout the 20th and 21st Centuries.
In addition, at 3:00 p.m. they will host a panel discussion on "Reparations and the 2020 Presidential Election".
The event is free to the public. Click the flyer for more information.
Category: Events