Published: Thursday, July 21, 2016 08:06 PM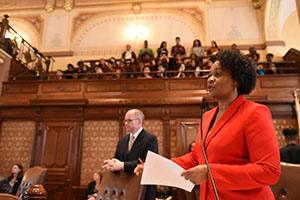 Funding for programs serving children ages birth to three will continue to increase under a proposal that was signed into law today. Assistant Majority Leader Kimberly A. Lightford (D-Maywood) led efforts to ensure this funding increase would not sacrifice support for other early childhood programs.
Senate Bill 238 requires 25 percent of any increase in funding for early childhood education must go to birth to three programs.
"Educating our children requires us to invest the proper resources to ensure their success," Lightford said. "We have made great efforts in improving developmental education over the last ten years. This legislation helps us to continue that work and move toward closing under achievement gaps without taking away from other valuable early childhood education programs."
Under current law, Early Childhood Block Grant funds directed to programs for children age 0-3 were required to increase to at least 20 percent of all available block grant funding in 2016. Unfortunately, due to lack of funds the increase would have resulted in a loss of funding for programs that serve children aged 3-5.
SB 238 fixes this unintended consequence. The new law is effective immediately.
Category: News