Published: Thursday, February 21, 2019 08:12 PM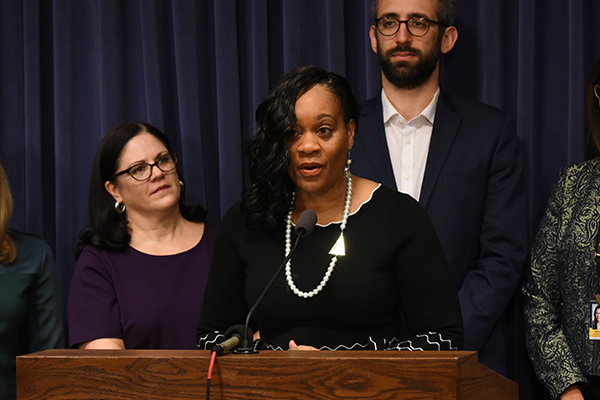 SPRINGFIELD – Students across Illinois could soon have consent taught as a part of their sex education curriculum. Senate Majority Leader Kimberly A. Lightford (D-Maywood) joined colleagues and advocates at a press conference on Thursday in support of House Bill 3550, currently being led through the House by Representative Ann Williams (D-Chicago).
"Some victims of sexual assault have remained silent for decades because they were afraid or blamed themselves," Lightford said. "We are here to say enough to a society that polices women more for what they wear than men for how they behave, and that starts with education."
The legislation requires students to learn the meaning of consent and how to respect personal boundaries. Under current law, consent is briefly mentioned in the School Code, but no definition or guidance is provided.
"Understanding what consent is and how to seek it plays an important role in knowing what sexual assault is and preventing it," Lightford said. "This measure will help young people build healthy relationships from a young age in the hope that we can begin to eliminate the culture of sexual abuse."
Category: News