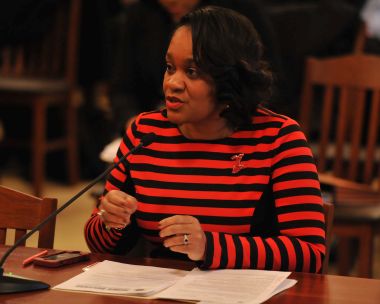 SPRINGFIELD – Most of us would agree that if we could do high school all over again, knowing what we now know about how the world works, some of our academic questions and concerns might focus on more practical subjects – maybe simply inquiring about how to get through day-to-day adult life unscathed.
How do I stay out of debt? What is the best way to pay back mounting student loans? How do I prevent the guy in the apartment next door from stealing my identity?
New legislation, sponsored by Senate Assistant Majority Leader Kimberly Lightford (D – Maywood), would require those questions to be answered in Illinois public high schools. Passing the Senate, the legislation would add identity-theft security, consumer debt and higher education loans to the list of mandatory subjects to be covered in high school financial literacy courses.
"Preparing the next generation for life after school takes more than preparing them for college courses or even a specific career," said Senator Lightford. "It is just as important to prepare our students for the scarier aspects of adult life. We need to teach the next generation how to prepare for and avoid some of the most common and severe real world difficulties as they graduate from school, begin a career and start their own families."
According to a leading producer of identity theft statistics, on average, close to 100 million Americans have their personal identifying information placed at risk of theft each year.
And thanks to climbing tuition and inadequate college savings, 40 million Americans now have at least one outstanding student loan, according to new analyses from credit bureau Experian.
The legislation, Senate Bill 672, now goes to the House for consideration. 
Category: News Releases