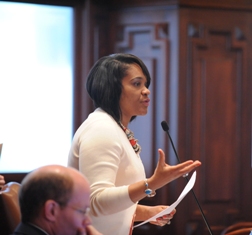 It is vital for any state budget to strike a balance – balance between common sense funding necessities for those who need critical services and ensuring that Illinois is fiscally sound and competitive. To achieve a competitively and compassionately balanced budget, Illinois must focus on jobs, education options, services, and above all, people.
Not funding education at a 100 percent rate again this year is simply unacceptable. Ninety-nine percent funding would not be enough, so the proposed 95 percent is certainly not adequate. Furthermore, the possibility of slashing the state's child care program, worker salaries, Medicaid, and other critical services, while instituting sharper tax cuts for CEOs will not move Illinois forward. It will only lend itself to further alienation and degradation of those unlucky enough to be ill, young, elderly or poor.
Yes, government leaders in positions of power hold many responsibilities, one of which is ensuring a thriving private sector, attractive to business and industry – but not to be forgotten is the awesome responsibility of protecting and serving the people. We cannot fall prey to the idea that we can bring prosperity to Illinois by proposing a budget void of a responsible level of help for the needy. This is not a balanced or feasible approach.
I still hold hope that I can work with this administration to institute a budget relying on justified reform and facilitating job creation.
Category: News Releases