Senator Lightford joined the members of the Conference of Women Legislators (COWL) and Illinois health officials in wearing red for the annual Go Red Day at the Illinois State Capitol. The goal of the event is to spread awareness of heart disease in women, and bring a hopeful atmosphere to the fight against this disease.
Each year, 1 in 3 women die of heart disease and stroke. However, 80 percent of cardiac events can be prevented with education and lifestyle changes. The Go Red For Women campaign also educates women on heart attack warning signs, which can be different than a man's. Women may experience nausea, jaw and neck pain or flu-like symptoms.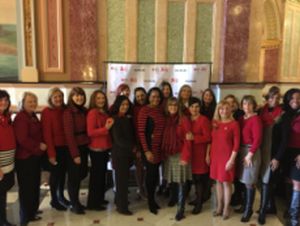 "Go Red For Women is about much more than wearing red on National Wear Red Day. It's about making a change for your heart health," said Senator Lightford.
Category: News Releases