Published: Tuesday, March 13, 2018 10:28 PM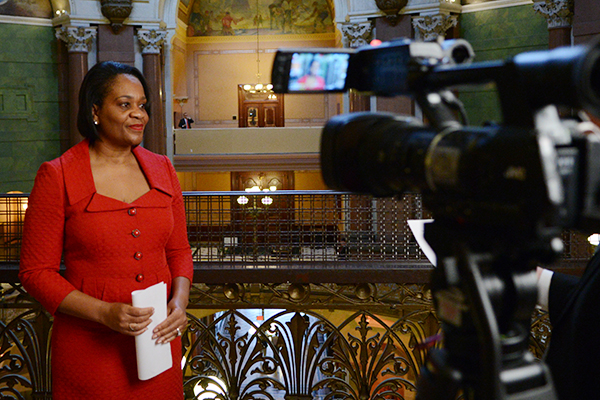 SPRINGFIELD — Members of the Illinois Senate Black Caucus to the governor's unwillingness to support commonsense measures to curb gun violence and help sweep unregistered firearms off the streets.
Succumbing to pressure from the NRA, Gov. Bruce Rauner today vetoed the Gun Dealer Licensing Act, which would have permitted the state to license and inspect gun dealers in an effort to assist the federal government in holding corrupt dealers accountable for illegal firearm sales.
Rauner vetoed the measure less than 24 hours before a national walkout to protest school gun violence and call on lawmakers to enact stricter gun laws.
Assistant Majority Leader Kimberly A. Lightford (D-Maywood), who also chairs the joint Illinois Legislative Black Caucus, delivered a clear message: "Leave it to Governor Rauner to put politics before public safety. If his goal was to curb gun violence in our state he would have appointed a commission his first day in office, not over three years into his term. There is too much at stake to continue stalling for personal advancement."
According to a 2014 report from the University of Chicago Crime Lab, almost 20 percent of all guns recovered from crimes scenes in Chicago between 2009 and 2013 came from three of the state's 2,400 dealers.
"It's unconscionable for the governor to take this action," said State Senator Kwame Raoul (D-Chicago), who co-sponsored the measure. "It's not an unreasonable request to license firearm dealers. The vast majority of voters support this measure on a bipartisan basis, and the governor turned his back on all of them today."
Senate Bill 1657 passed the Senate last April and the House last month. Advocates including Chicago Police Superintendent Eddie Johnson and the leader of Chicago's Catholic archdiocese say the measure is commonsense legislation that should have become law years ago.
"In every corner of our country, the voices of young people who have seen the lives of their friends and loved ones cut short are raised in unison to call on us to act," said State Senator Jacqueline Collins (D-Chicago). "By choosing to veto this legislation, the governor has chosen to ignore the clear voice of the people."
State Senator Elgie Sims Jr. (D-Chicago) agreed.
"Gov. Rauner is bowing to the gun lobby," Sims said. "Enough is enough. This veto will make our communities less safe and disregards commonsense solutions to keep guns out of the hands of those who should not have them."
The Senate Black Caucus will continue to advocate for gun reform to prevent senseless gun violence that destroys communities of color.
Category: ILBC