Published: Thursday, November 09, 2017 08:05 PM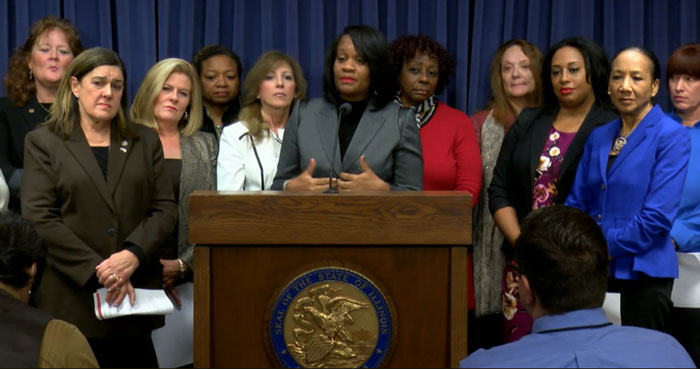 SPRINGFIELD – A bipartisan group of female state senators announced the creation of the Women's Caucus at a press conference in Springfield.
"We've seen throughout history that when women mobilize and claim their seat at the table, they break barriers and find solutions to the most stubborn of problems," said Senator Heather Steans (D-Chicago). "I expect this caucus will do the same for the women of Illinois."
The caucus is being formed to promote and advance women's issues within the legislature and to support female senators from both political parties.
"Women's issues transcend party lines and extend far beyond the confines of a legislative chamber," said Senator Karen McConnaughay (R-St. Charles). "I pledge to work with Democrat and Republican women who serve in the Senate to advance legislation that support, empower and protect women of all ages and in all environments."
Although sexual harassment in the workplace will continue to be an issue of focus for the caucus, the group hopes to become the leading voice on a range of issues facing women in Illinois. It also intends to offer support for women within the workplace, institutions of education and home.
"The Women's Caucus brings together a diverse group of legislators from across the political spectrum," State Senator Toi Hutchinson (D-Chicago Heights) said. "We recognize the importance of being bipartisan so that Senate leadership will respect our efforts. We intend to be taken seriously."
"Women in the Senate have worked well together for years," said Senator Pamela Althoff (R-McHenry). "This newly formed caucus just takes us a step further to ensure that we are creating a voice for the women of this state and that we are dealing with the issues that impact them."
Assistant Majority Leader Kimberly A. Lightford (D-Maywood) made the following comments:
Category: Video